Dog-Friendly Winter Activities in Snow
Although it's cold outside, you still can have fun with your dogs. There are many excuses that you stay in your warm couch, especially there is recent COV19 lockdown. However, it is harmful to your and your dog's heath that stay long indoors with little physical exercise or fresh air. Winter Olympics 2022 game is coming soon. Although join the game is difficult, but everyone can enjoy the fun and inspiration in different way. Several winter activities with your dogs can bring you healthy and happy winter together. Let's find out and move!
Skijoring and Sliding
This sport is a combination of cross-country skiing and dog sledding where your dog is attached to you at the waist.  If you and your dog are up for the challenge,  skijoring is definately a fun game for dogs to play. Maybe your dogs aren't a great puller, but most of them loves to run next to you when you ski.  Be noticed that you must use adjustable padded harness that when your dog is pulling and skijoring. It is quite important for safe. Some small dogs may like riding the sled themselves. Dogs prefer sliding actions and you may find more fun when they are on slopes. If you have enough patience, you may try to teach your puppy keep balance on a moving sled, and he/she will be a super star in social media very soon if he/she can make it.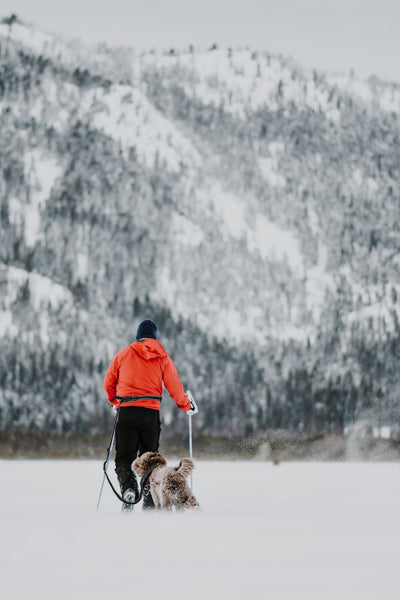 Snow Maze
Dogs are love to explore and freedom. Letting them run free and sniff around in the snow is a great way to level up their outdoor activity expertise and enjoy a better snow day. You can build up snow building, moutains or blocks in land, and let your fur friend fool around. Or even just step up some small route for them and throw a frisby to the far end, and let them pick it, go back through the maze and get it to you. Moreover, hiding treats in the maze can make the game more exciting for them.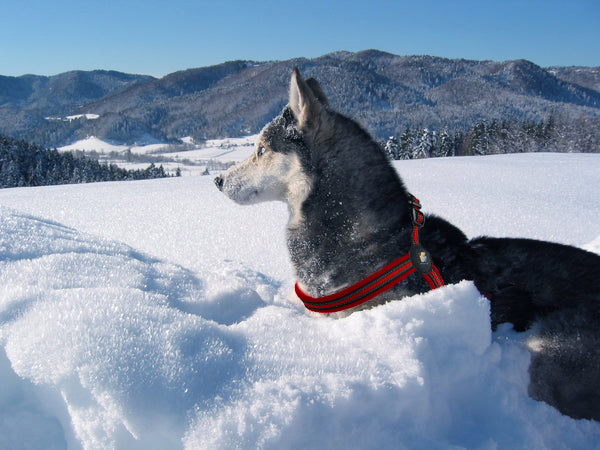 Snow Catch
It is as simple as the game name. Bring his favorite toys or LED balls which are better to locate in dark snow land, and throw them as far as you can, but
please keep it in a safe distance (don't make it too far). Meanwhile, you could toss some snow ball and throw them to your fur friend when they run to make the game a bit more difficult and challenging.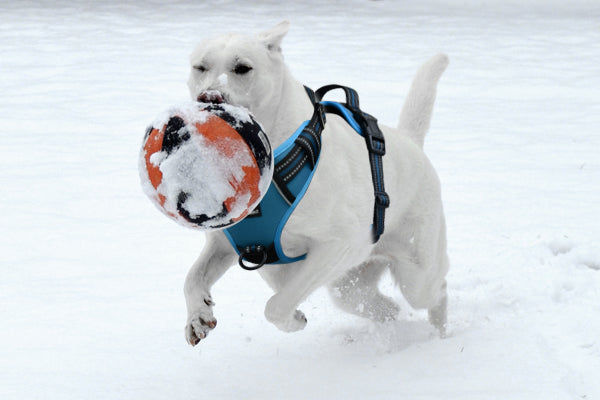 Be attention before go...
Please consider the following issues before you take your four-leg buddy out to winter:
Not all dog breeds can bear winter cold and snow. Check your dog is one of these snow-loving dogs or not. There is a simple to tell - if they tremble or

reluctant

to move, don't force, take them to a warm place at once. 
Make sure your dog is adequately equipped before jumping into winter world. A dog jacket or vest is a good choice. Don't stay out for too long if it's freezing outside. 
Take care of the paws. Chapped paws and itchy skin may happen when your dogs exposed to winter's circumstance. Try not to go outdoor if the weather is rainy or snow. Make sure nails cut short and trim the fur between the toes. Consider a pair of dog booties or shoes to protect their paws.
Always bring water and treats. Cold consume energy more than normal climate. Your buddies may get hungry and thirsty faster than normal outdoor routine. 
---