Halloween Stress-free Guidelines for Dogs
Boo! The spookiest season of the year is coming on! As a creative pet parent, are you thinking about how to dress up your lovely furry pal to stand out in the crowd this Halloween? But have you noticed that some dogs seem not enthusiastic about it? In fact, Halloween might be a tough time of the year, making our four-legged friends feel stressed out.
Reasons for Pet Stress out
Spooky decoration – Many pet parents are inclined to purchase some spooky props and costumes to render the scary atmosphere of Halloween. Such as some toys that will make a screaming sound, lifelike skeletons, or props that will suddenly pop up to scare people. However, these decorations will make the pet always be cautious of their surrounding environment and easily cause fear in pet psychology and even trigger aggressive behavior.
"Trick-or-treating" event – "Trick-or-treating" is a classic Halloween activity, but a steady stream of knocking on doors and visitors who are in fancy costumes can make a dog's hearing more sensitive and keep him on edge. It is no wonder that sometimes the dogs will keep barking or growling at the visitors.
Pet costumes – There are lots of dog halloween costumes to look sophisticated and eye-catching, so many pet parents enjoy buying costumes and dressing up their dogs. But to reach a more thrilling effect, some pet costumes are not designed from the dog's perspective, they can not provide the dogs a comfy wearing experience or allows the dogs to play at ease. Therefore, putting on the costume might be a stressful experience for the dogs. If your furry kid keeps struggling with the costume or shows any signs like rolling or rubbing on the floor, please help them to take it off, and don't force them to take it on again.
How to ensure the pup can enjoy Halloween?
Bring your pet indoors before nightfall.
As night falls, the streets will become noisier on Halloween night. To prevent dogs from escaping due to being stunned by people's spooky costumes and strong make-up, you should take your dog home as soon as possible to reduce the time to stay outside. In addition, to prevent the dog from getting lost, the dog should always carry an ID tag that writes the owner's contact information, so that the dog can be found the first time.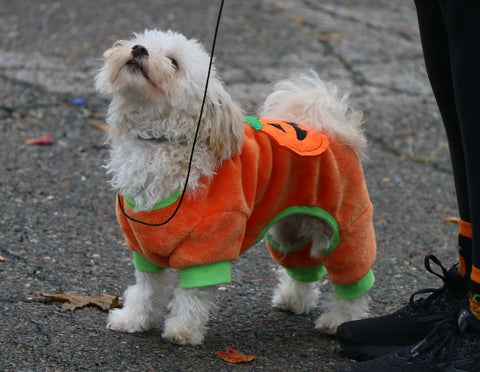 Keeping the dangerous items out of reach.
Don't forget to stash the candy and chocolate. These are delicious treats for children, but also are deadly poisons for dogs. Besides, raisins and xylitol are also poisonous food too. A dog that accidentally ingests them, will suffer from vomiting, diarrhea, tachycardia, kidney failure, and other serious consequences. On the other hand, don't overlook the potential hazard from the Jack-o'-lanterns, please put the pumpkin with a lit candle in high places and out of reach of dogs. If the pooches accidentally knocked over the pumpkin, the candle inside is certainly supposed to singe its paws and burn the fur, even may start a fire.
Being cautious of pet costumes in selection.
If you want your pet to be better integrated into the atmosphere of Halloween, excluding those too exaggerated scary costumes, you can choose some styles that dogs would be acceptable and comfortable with. The costumes must be choke-free and will not cause much burden on dogs. Purchasing some dog bandanas with Halloween elements is also a good choice. Not only lightweight and be used in everyday wearing.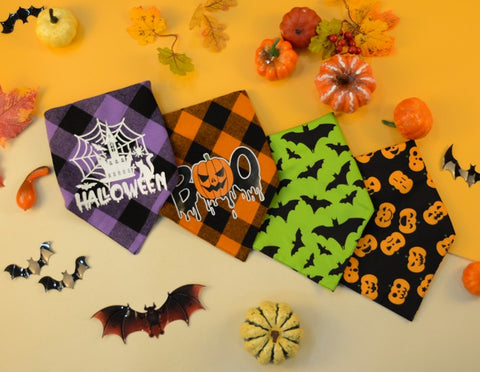 (Bella & Pal Halloween Dog Bandanas, view more >>)
Giving your pet a separate room.
Your dog is supposed to stay in a separate room that is safe and comfortable. The room should be located as far away from the door as possible, ensuring that your dog can have a rest without being harassed by the doorbell. It is also a good way to prevent your dog from running outside when he or she is getting scared. If a Halloween party is held at home, it's wise to notify every guest who visits, so they know where the dog is and to maintain a reasonable noise level in its activity area. If you are still concerned about your dog being affected by the noise, try playing some soothing music for your dog and turning the volume up to a reasonable level that just drowns out the noise. Or prepare some plush comfort toys for dogs in the room to distract your dog!
---